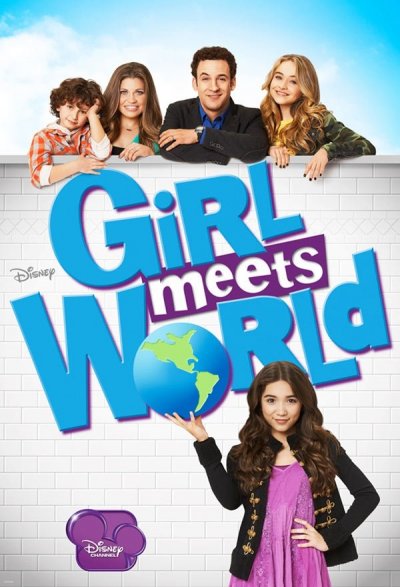 There are times I want to curse YouTube, and times I want to bless YouTube. Introducing me to Girl Meets World counts as one of the latter.
As the direct sequel to the classic Boy Meets World, the story of Girl Meets World picks up about thirteen or so years later, following the adventures of the next generation alongside the protagonists of the previous show. There are a few callbacks to and continuations from Boy Meets World, but Girl Meets World is crafted in such a way that usually doesn't leave you hanging. By and large, this is its own show, with its own characters who have their own journeys. It's sort of like the real rising of new generations of the family that way.
The previous show, I gather, followed the everyday adventures and life lessons of Cory Matthews and his friends and family as he passes through grade school, high school, and college. This one follows his daughter, Riley Matthews, in similar fashion, beginning somewhere in junior high. Cory is a history teacher, and he takes the lessons of history and makes them applicable to the lives of his students (sort of like I do more with lessons from stories, but a whole lot better). Among his students, at the beginning of the show, are his daughter, her best friend Maya Hart, their friend (and the son of another Boy Meets World character) Farkle, and the handsome, new kid in school, Lucas. These kids, and a couple of others who become good friends, and the rest of their classmates, they are the next generation, and we proceed to watch them learn and grow. Somewhat parallel are the adventures of Riley's little brother Auggie, his girlfriend Ava, and his friend, Dewey (he pronounces it "Doy" for some reason), under the eye of Cory's wife, Riley and Auggie's mother, a fan favorite girl now grown into a strong woman, Topanga Matthews.
I am just going to say, I… really… enjoyed this show! Amidst all the tumult of life right now, and all the shows and movies and anime that keep trying to go bigger and louder, Girl Meets World felt like a wonderful breath of fresh air! There's a simple, genuine happiness to it, a joy and humor that, with just a few words, opens our hearts to these characters, by opening the depths of their hearts and souls and minds to us as we see them begin to evolve, making us laugh and cry and think alongside them. It doesn't hesitate to poke fun at itself, either, for the classic melodrama of overacting on the screen. The many lessons it teaches are heartfelt and important. And, if I may say, it's absolutely refreshing to see a show that doesn't hesitate to promote the family, and America, and independent thinking.
My absolute favorite of the show, however, was Maya, portrayed by Sabrina Carpenter. Riley may have been the lead of the show, but Maya stole that lead quite often. She grew and evolved a lot more visibly than Riley, who tended to remain unchanged from episode to episode, and she was more grounded and relatable, I think, for her troubles, her mannerisms, and her mischievous spirit. Riley was invaluable for her steadfast loyalty and her surprisingly keen insight, but Maya was the one who went through truly difficult ordeals and emerged as a more whole and complete person. I particularly love the bond that formed between her and Cory's best friend, who became a father figure to Maya even as he and Maya and Maya's mother all learned to open up to each other, to take risks together and trust each other, and, in time, to love each other with all of their hearts, and with open eyes.
I would say I have only two complaints about the show.
One is how young and absolutely naive Riley is when she starts getting her first boyfriend. I know this isn't a universal thing, but here, now, today, in our hyper-sexual society, I would say that thirteen years old is simply too young. But, then again, Maya is barely fourteen when she basically calls dibs on another boy, a relative of Riley's, who is at the latter end of high school (side note: there are some continuity errors with the age difference, but it's generally accepted that he's three years older than her). Thing is, Maya is so generally well-grounded, and isn't always fixated on this boy, and she's so genuine and actually knows the boy better than anyone thinks she does… well, somehow one ends up rooting for her to get him. But not right then. It handles that subject well too, making it a possibility, albeit one we very much want, for the future, rather than something that is happening right then and there. So, there's a compare and contrast aspect to these early romantic relationships, and I suppose all the coming-of-age stories have those first experiences with attraction and love. I guess I can't complain too much.
My second complaint is that the show is too short. Only three seasons. Boy Meets World went for, like, eight or something like that, and Girl Meets World was clearly fixing to go a similar length. But, alas, Disney canceled it. There has never been provided a clear explanation of why. If it were the ratings – which would suck but be fair enough, given how each successive season's high point matched the low point of the previous season – then one would think that Disney might just say so, but they didn't. As such, we may never know the why of the show's cancellation. Alas!
Ultimately, Girl Meets World is a show that acknowledges what came before, but stands on it's own feet. It teaches many important lessons, as quality stories do, and it makes us laugh throughout the experience. It has wonderful, lovable characters, and it's a joy to watch them as they develop. This is one of those shows which I want my nieces and nephews and my theoretical future children to watch, and I will be happy to watch it with them! 🙂
Rating: 9 stars out of 10.
Grade: solid A.